Description
Lake Chala Crater Lake (Lake Chala Safari Lodge)
Lake Chala is a unique caldera lake and is thought to be the deepest inland body of water in Africa.
The lake has a great diversity of life. From lush lake shore forest to stunning volcanic savannah; from river beds marvellously carved through the ancient rock to the thick bush or open 'mbuga'. Walking at Lake Chala is a magical experience that will put you back in touch with nature.
If passing by, you would never know that it existed as it's completely hidden which makes it all the more mysterious and exciting to visit.
The lake is fed by groundwater flows, which come from Mount Kilimanjaro, fed and drained underground with a rate of about 10 million m³ / year. Depending on the time of year, it ranges in colour from deep blue to turquoise and green, it is surrounded by a 100 metres high crater rim.
Chala has a huge variety of amazing trees, grasses and plants; some are unique to the area. According to the time of year, there are hundreds of species of butterflies and birds, including spectacular birds of prey.
The African Fish Eagle, with its haunting techniques, Verreaux's Eagle, Augur Buzzards and many other species of birds can be seen around the crater walls. Wild mammals do vary including Blue Monkeys, Colobus Monkeys, baboons, dik-dik, kudu and elephant. Chala is an untouched part of a truly ancient land and a must-visit place.
The Kenya sub-aqua club still run diving trips here so they obviously think it must now be safe! You would have to decide for yourself whether swimming here is a good idea or not though!
A short story about lake chala
The locals say that there was a campaign to shoot and kill any crocodiles in the lake after the girl's death and it is now completely safe to swim in.
In the early 1900s crocodiles were introduced to the lake.
However, over the years, local fishers have killed them, and, likely, none exist there today.
Local fishers can be seen in their dugouts drifting silently along, and they come to fish there almost daily.
Myths and legends surround the lake and the local people believe a whole Maasai village disappeared into the lake. It is said that the spirits of those people still haunt the lake today.
Lake Chala and the surrounding area is spectacularly interesting, not just because of Kilimanjaro that can be seen on clear days towering in the background but also because it thrives with life.
Walking around you can spot plenty of birds (about 200 species) and small mammals such as blue monkeys, colobus monkeys, baboons, dik-dik and kudu. Being so close to Tsavo National Park you might be able to see large herds of elephants that migrate back and forth between Kenya and Tanzania.
Is Lake Chala a freshwater lake?
Lake Chala is natural habitat is freshwater lakes. It grows to a maximum size of 30.0 cm SL (male/unsexed; Ref. 4967)
Is tilapia endemic to lake chala?
The Lake Chala tilapia (Oreochromis hunteri) is endemic to Lake Chala. The Red List of threatened species, which is maintained by the International Union for Conservation of Nature, describes this fish as critically endangered.
Where is lake chala?
880 metres (2,890 ft) Lake Chala, also known as Lake Challa, is a crater lake that straddles the border between Kenya and Tanzania. The lake formed approximately 250,000 years ago.
The lake is east of Mount Kilimanjaro, 8 kilometres (5.0 mi) north of Taveta, Kenya, and 55 kilometres (34 mi) east of Moshi, Tanzania.
How was the lake formed?
Lake Chala is a water-filled caldera that was formed after volcanic activity (probably from Mt Kilimanjaro) caused it to collapse. The crater itself is 3km in length and 2.4km wide, with a surface area of about 4.2km²
Common Tours and Activities in Lake Chala
A crater lake in a caldera at the border between Tanzania and Kenya and 52 km from Moshi town, Lake Chala is said to be the deepest inland water body in Africa with a depth of about 3 km.  was measured at a depth of 95 meters, which makes it deeper than famous Lake Victoria.
Filled and drained by underground streams, the lake ranges in colour from deep blue to turquoise and green. Take a walk down the 100m deep crater rim to the lakeshore and cool your feet at the water's edge among the rocks as you watch the water ripple peacefully through the lake in shimmering delight.
Day Visiting:
 15.000 TSH a day (10.000 for citizen and residents) including use of all facilities except Kayaks.
Kayaking is 10,000 TSH for day guests for one hour. (Please note, that there is a governmental fee to the Wildlife Management Association at the barrier on the road before Chala land.
Climate:
Chala has a temperate but varied climate. It can be very hot in the day time, especially in December to March, but evenings and mornings are cool and nights can be chilly. From May to September it can be quite cold, warm clothes are needed in the early morning and evening.
What to bring:
We do advise good walking shoes, and maybe a stick to go down to the lake. It is a steep ascent. Bring binoculars for birding, sunscreen, hat, appropriate clothes for temperature changes, check 'Taveta weather reports'.
Walking:
Chala is a wonderful area in which to walk. All walks have to be accompanied by a staff Member of Lake Chala Safari Lodge.
The Chala bird survey is ongoing.  Birds are plentiful and raptors, in particular, are many and spectacular in the area. Chala is thought to be an important migration corridor on the eastern flank of Kilimanjaro, and unexpected birds can be found here during migration time.
Kayaking is back at Lake Chala. Enjoy an hour of special views to the crater rim, see birds an with a bit luck Blue Monkeys playing around in the trees at the shore. Kayaking for one hour is 10,000 TSH for day guests, 5000 TSH for camping guests and free for guests in our luxury tents.
Fish: The lake is home to the Lake Chala Tilapia, a species of fish in the Cichlidae family. This fish is endemic to Chala but is now a threatened species due to overfishing, a concern which needs to be addressed. That's why fishing is not allowed at Lake Chala.
Crocodiles were introduced to Lake Chala in the 1930s. According to legend they were brought in by E.S. Grogan, a British explorer who became famous for walking from Cape Town to Cairo in 1898. The terrain is totally unsuitable for crocodiles to breed, there is no beaches or sandy areas to make their nests. In the early 1990s fishermen, angry that their nets were continually being destroyed, began a program to eradicate them. Since 2002 there are no longer any crocodiles left in Lake Chala.
There are many beautiful walks around Chala; as always in Africa, the best walking is in the early morning or late afternoon.
The River Bed Trail
follows the wonderfully carved and varied 'dry' river bed then back up the Camp hill to the Kenyan border, and down along the edge of the crater lake. Great views can also be had on this walk across the bush to the foothills of Kilimanjaro and of the mighty mountain itself.
The Chala Hill walk
is best done in the early morning. Well worth the climb, this is an incredibly scenic walk with breathtaking 360% views across the lake to Kenya, to Lake Jipe, Kilimanjaro and over most of the hundreds of hectares of Chala land. There is no chance to walk around the lake because of border restrictions.
The Lake Walk,
a steep descent and good walking shoes and stick are advised.
Plants and Trees of Lake Chala
From lush lake shore forest to stunning volcanic savanna, Chala is immensely rich in flora. A vast array of trees, shrubs, flowers and grasses, including rare plants, some endemic to Chala, adorn the landscape. The variety is astounding and beautiful in this harsh environment.
Flowers:
Throughout the year an assortment of beautiful and delicate flowers are to be found at Chala.
Flowering Shrubs:
Flowering shrubs too show off their beauty, with a  range of flowers and berries.
Trees:
Trees are also varied and fascinating in their range of species.
Grasses:
From August until October grasses are spectacular at Chala and beautiful in the evening sun
Our advice is not to swim here no matter how tempting it is. If you decide you must, don't swim in twilight hours and listen carefully to local advice before jumping right in.
At the moment swimming is not allowed due to administrative restrictions. We will inform you as soon as the approval is given again.
Lake Chala is great for exploring nature. Depending on the time of year the lake is highly recommended.
Main accommodation around lake chala (Facilities)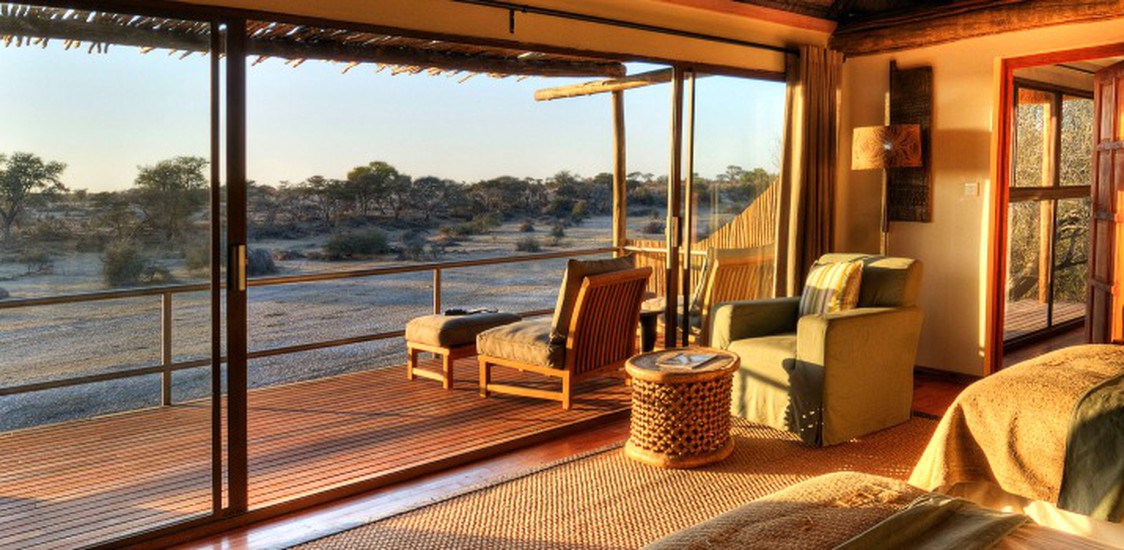 Luxury Tented Camp 
The Luxury Tented Camp includes large, spacious tents, with great en-suite bathrooms, soft lights and imported bedding provided for comfort. This allows you somewhere to really relax and absorb the tranquillity of Chala.
Relax with a drink from your minibar, or sip your tea or coffee, while enjoying the fabulous views from your veranda.
In the tent, from the soft lighting to the spacious and refreshing shower, all make for a soothing atmosphere. Excellent imported mattresses and luxurious bedding, help to assure a good nights sleep. Towels provided for added comfort and convenience.
Wake to the morning song of savanna birds and sunrise over bush and lake, absorb the peace and tranquillity of this unique and romantic part of the African bush.
Rooms are twin (two single beds), double (one queen size bed) or triple (one queen size double bed, one single bed)
The Chala Campsites
The Chala Campsites have three separate campsites with splendid views. The camp has excellent facilities: electricity, tiled ablution blocks, flushing toilets and hot water showers
The Chala CAMPSITES have three separate campsites near the main camp ablution blocks. We provide a bar, restaurant and European style clean tiled ablution blocks with hot water showers, flushing toilets and electricity. All sites have BBQ grills and running water.
The campsite main area includes a covered dining area, a food preparation and dishwashing area and Europen style tiled ablution blocks with hot water showers, flushing toilets and electricity.
Five tents (comfortable for two, maximum 2 adults, 1 child under 12) are available for hire complete with bedding (tent hire fee not includes camping fee).
For those wishing to self-cater, all sites have BBQ grills, running water on-site and good access for vehicles.
lake chala entrance fee
25 USD
There is 25 USD entrance fee to Lake Chala mandatory for all – day visitors and overnight guests.
Best time to visit
All year round
3 ways of getting there
Buses
Car Hire
Tour Operators